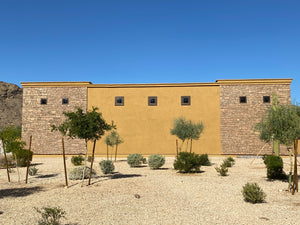 Arizona home uses Decorative Faux windows to bring style and beat the heat
Living in Arizona means needing to be as energy efficient as possible. The heat and sun pose a constant challenge for homeowners who are looking to add the curb appeal of windows without increasing their utility expenses from sun exposure.
The ideal solution is decorative faux windows. With decorative faux windows, you get the aesthetic charm of windows, without the structural alterations or other consequences.
This is exactly what the Altzman family did for their garage renovation. "Due to the size of the garage wall (which is 22 feet tall) we wanted to break up the massing. However, being in Arizona, we didn't want the sun/heat penetrating that side of the garage. We found [Imagination Millwork] online, gave them a call, and in a matter of weeks, we had our windows."
Faux windows offer a creative and cost-effective solution for many situations. Not only are they easy to install, but they are also simple to maintain and resistant to heat, cold, mold, mildew, and warping. Made from PVC, the same material used in the healthcare industry, Imagination Millwork's faux windows are stable and lightweight. Faux windows can be painted any color, which makes them ideal for bringing a pop of style to your home, whether or not it's in the desert.
"[We've gotten] nothing but positive feedback and comments," said Mr. Altzman. "It's one of those things you almost have to see to understand the upside of their aesthetics."
Imagination Millwork is ready to help bring your vision to life. Our designers can work with you to build and design custom products, guide you through the install process, and answer any questions. We can also match many existing styles and design requirements. Contact us today to get started with your project.
---